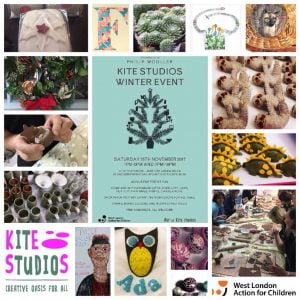 We're warming up for our Christmas Fair at Kite Studios…
It's that time of the year, the smell of mulled wine is in the air and the talk of Christmas is all around. We will be hosting our annual Christmas fair on Saturday 25th November from 1 – 5pm and again at 7 – 10pm. Save your appetite as there will be yummy cakes and tasty indian street food available to purchase amongst a selection of drinks. We are fundraising for 'West London Action for Children' & 'Kite Art CIC Sponsorship fund'. This year we are offering creative experiences. Not only do you get to admire the pottery we have available to purchase, you can also have a go at making something of your own. Come and have a go on the wheel with your friends, followed by a nice warm cup of mulled wine to get into the festive spirit.
Struggling with christmas gift ideas?
If you have a friend or relative that is interested in art & crafts from pottery to printmaking we may have the perfect gift idea for you. At Kite Art CIC we offer a selection of art classes for both children and adults. We have gift vouchers available to buy as a greetings cards or as simple postcards – which you can purchase all year round. This gives people the opportunity to take part in a session at Kite Studios, choosing there ideal time & date. If a creative experience gift doesn't suit your loved ones, then not to worry – there will be plenty more unique gifts to chose from at the fair, so don't miss out!
We look forward to seeing you,
Kite Studios Team x